Trip: Botswana Safari

Duration: 13 Days / 12 Nights
Price: € 4.100,00. Single supplement € 320,00
Participants: minimum of participants: 6 people/max. 12 people
Highlights:
The present itinerary has been created especially for the needs of ambitious photographers:
– the tour will be accompanied by Catherina Unger, travel photograper and experienced connoisseur
of Botswana and many other subsaharian countries.
– an open safari car for excellent viewing conditions.
– the daily programs have been established basing on the needs of photographers: sufficent stops for
pictures, visits of spots with particular photographic charme, use of the hours with the best light conditions
– the opportunity to exchange experiences with the travel photographer or the other participants and
to learn new photographic techniques or tricks in the postproduction (Photoshop, Lightroom)
– the itinerary gives the possibility to stunning night photographs
– review of pictures realised by the participants and solutions for the postproduction.
– tribal encounters: make fascinating portraits of the local san (bushmen) people
– aerial pictures: during the optional helicopter flights over the Okawango Delta or the Vic-Falls
– wildlife photography: safari in one of the most remote "photogenic" areas all over Africa offering
different habitats from desert to river, delta, savanna, bush, swamp …
DETAILED DESCRIPTION
Trip Program:
Day 1 – Central Kalahari
Arrival around midday at Maun airport, Botswana. Road transfer to Dinaka Lodge, an intimate lodge on the northern boundary of the Central Kalahari Game Reserve, that provides you with real home comforts without losing its authentic bush feel. In the afternoon time to relax and refresh. Before dinner we get around at the camp fire and present the group members. Included meals: dinner, drinks (excluding premium import brands)
Day 2 – 4 – Camping adventure in the Central Kalahari
After our first African sunrise we will have some activities with the San people of the area (bushmen). Departure from Dinaka Lodge after brunch, heading towards the Central Kalahari. You'll take part in the unique comfort mobile safaris to the Central Kalahari/ Deception Valley. Accommodation is in comfortable dome tents with private shower and toilet. All meals, daily activities, laundry (water permitted) and drinks (excluding premium import brands) Nothing prepares you for the immensity of this reserve, nor its wild mysterious beauty. There is the immediate impression of unending space and having the entire reserve to yourself. Waist-high golden grasses seem to stretch interminably, punctuated by dwarfed trees. Wide and empty pans appear as vast white stretches of flat earth, meeting a soft, blue-white sky. At night the stars utterly dominate the land; their brilliance is totally arresting. The Central Kalahari game Reserve is the largest, most remotely situated reserve in Southern Africa and the second largest wildlife reserve in the world. During and shortly after good summer rains, the flat grasslands teem with wildlife, which gather at the best grazing areas. These include large herds of springbok and gemsbok, as well as wildebeest, hartebeest, eland and giraffe. The northern deception valley is one of the highlights, principally because of the dense concentrations of herbivores its sweet grasses attract during and after the rainy season (and of course the accompanying predators).
A typical safari day
it's still dark outside and only the first birds have started the singing when a gentle wake up call comes. A cup of hot coffee waits for you at the camp fire and then off we drive with the first silver glow on the horizon: in order not to miss the sunrise and the most precious morning hours when all the animals are very active! It's difficult to say what we may see – a family of elephants, a huge group of antelopes in the morning light, a lion pack hunting? On the way we stop for a second coffee and around 10 am we head back towards our mobile camp. Time for a shower or a book… Brunch waits at 11 am with freshly cooked bush specialties. During the hottest hours everybody rests. Around 4 pm we re-emerge for an afternoon tea before we head out again for another game drive. For sunset we find a particularly scenic spot – perfect for wonderful pictures and perfect for a romantic moments… At our return dinner waits for us and the evening finishes around the bushfire. With the night also the mysterious African night sounds begin and accompany our sleep in the camp in the middle of the bush.
Day 4 – Maun
After breakfast we leave the Central Kalahari and return to Maun. Lunch picnic en route. You will arrive in Maun app 14:00hrs, enough time to refresh and may to have a scenic flight over the Okavango Delta either with a little aircraft or in a helicopter a unique opportunity to take stunning aerial pics of the Delta (optional). See the spectacular vistas of northern Botswana from a perspective unlike any other. Accommodation: Maun Lodge, breakfast included.
Day 5 – Day 7- Camping Adventure in the Moremi Game Reserve
The Moremi Game Reserve is considered by many wildlife enthusiasts as one of Africa's most outstanding wildlife sanctuaries. It covers a considerable section of the Okavango Delta and is specifically situated in the central and north-eastern regions of the Delta. In 1963 the local BaTawana people set aside one third of the Delta to protect it for future generations. It was named after Chief Moremi and was established to protect their wildlife from being decimated by hunters, a remarkable achievement by any standards. It consists of an impressive variety of habitats that support enormous concentrations of wildlife, including one of the largest populations of the endangered African wild dog. Mopane tree canopies dominate the dry lands of the Moremi and the remainder of the reserve is a combination of floodplain grasses, sandveld, riverine woodland, as well as areas of permanent delta. As the animals found here are both numerous and somewhat more relaxed by safety in numbers, vehicles often approach quite closely. Accommodation is in comfortable dome tents with private shower and toilet. All meals, daily activities, laundry (water permitted) and drinks (excluding premium import brands)
Day 7 – Day 9 – Camping Adventure in Savute – Chobe National Park
There is a river that flows through Savute, from time to time. When it flows Savute is a paradise in its own right. The river empties into a marsh, where the green flush that comes with the water suddenly attracts a variety of species into Savute. From antelope to predators, birdlife and fishes. All will find a heaven here. The opposite is a different picture, of dry dusty open country. The sun baked sand and its hostility is no home for the weak. There is life though that remains, and indeed survival of the fittest plays itself out to the last bull elephants, which never leave come what may, because Savute has been home, for their entire lives or the legendary pack of 40 lions hunting elephants. Since 1982 the river has not had water. February of 2010, the water arrived in Savute yet again. Savute is going through a transformation that will not end soon. A place to be seen to understand its magic… Our tents will be set on the bank of the great channel, under shady Kalahari apple leaf trees.
Accommodation is in comfortable dome tents with private shower and toilet. All meals, daily activities, laundry (water permitted) and drinks (excluding premium import brands)
Day 9
Road transfer from Chobe National Park Savute to Kasane, Lunch picnic and Game drive along Chobe river en route, arrival in Kasane late afternoon. Our accommodation will be Chobe Safari Lodge, situated on the banks of the Chobe River. Spectacular game viewing from the river cruise at early morning. Breakfast included.
Day 10
Road transfer from to Kasane to Livingstone – the town next to the famous Victoria Falls where our accommodation will be in a charming guest house with Italian flair. Our tour ends today with a last African dinner together. But we suggest in any case to add some days in Livingstone and take part in some of the stunning activities to explore the 8th world wonder – there are helicopter flights or bungee jumping, lion encounters or river rafting, river cruising or walks to the falls… END
Departure Dates On Request
info@planet-wilderness.com
Included:
Professional travel photographer during the whole tour.
Expert local guides and drivers for all activities
Accommodation on a shared basis
Meals as specified
Excursions and transfers as shown in the itinerary (usually twice daily game activities at safari lodges and camps)
Services of the lodge guides and staff
Relevant park fees
Meet & Assist service on arrival
Drinks as applicable on your itinerary above
Excluded:
Any flights and related airport taxes
Visa fees for Botswana and Zambia
Items of a personal nature
Drinks, entrance fees, porterage, tours/excursions and transfers not specified above
Cancellation, baggage or medical insurance
Any new government taxes, levies, fuel or industry increases which are beyond our control
Tips
Optional tours and activities
Every other thing not mentioned under "included services".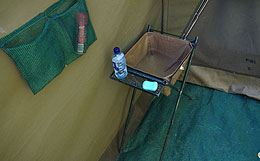 Camp Bathroom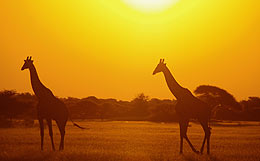 Giraffe at Sundown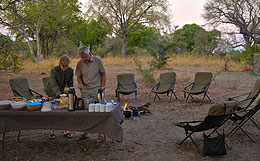 Camp Atmosphere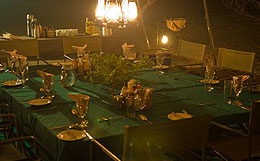 Camp Dinner